Starting the heavy construction
on a new labor-liberal-green-
populist-progressive majority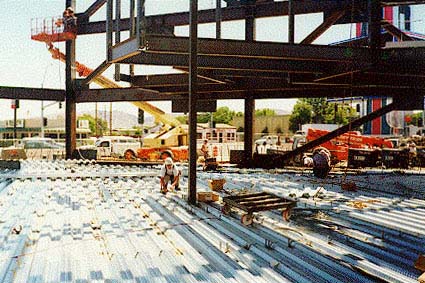 BUILD IT AND THEY WILL VOTE — Hardhatted and hard at it, construction workers build the new
Our Lady of Perpetual Campaign Contributions Cathedral somewhere in the High Desert Outback of the American Dream.



Stay tuned for follytix, polytix and serious lampoons of the usual poltroons.

Keep your tools handy and your powder dry.
---

COMING SOON: ASK ANDY
So many people have been asking for advice on how to vote that I might as well publish it. Such comments will be totally non-objective and thus objectionable to some, useful to others and occasionally amusing to all. Be well. Raise hell.


---
HOT TOPICS ON NEVADA TELEVISION
and other disreputable dens of iniquity
Updated Saturday, 9-18-2004

Dear Readers, Fellow-Travelers, Compatriots, Constituents and Detractors:

Tonight, the political dinosaurs who scored high-percentages predicting primary election results will bask in glory and take a few lumps. Tune in to northern Nevada's PBS affiliate KNPB TV-5 this evening (Saturday, Sept. 18) at 5:30 p.m.

Former Nevada Attorney General Brian McKay (R), Former State Treasurer Patty Caferatta (R), Nevada Assembly Speaker Emeritus Joe Dini, (D-Yerington) and NevadaLabor.com editor Andrew Barbano join moderator Erin Meehan Breen to perform a primary election postmortem.

For more details, go to the KNPB website.

POLITICS AND POKER FROM BALLOTBOXING.US

1. TODAY'S BILL RICHARDSON EVENT HAS BEEN CANCELED. Apparently, some people have not gotten the word that the Reno visit by Gov. Bill RIchardson, D-New Mexico, scheduled for Sept. 18, has been canceled. No info as to why. Maybe John Edwards and Dick Cheney in the same week was all the follytix we could be expected to handle. Saturday is sorely needed for beer, Barry Bonds and minor league football (UN,R plays Buffalo today, which if nothing else, provides a great segue...)

2. WHERE'S BUFFALO BOB WHEN WE NEED HIM? Hey kids, I'll be shouting from the pundit gallery next Thursday on Sam Shad's statewide Nevada Newsmakers. For next week's bombastic and iconoclastic tv-cable-radio program schedule, click thee unto here.

3. WE'RE FINALLY NUMBER ONE AT SOMETHING GOOD. Today's New York Times editorially praises the Silver State for successfully holding an electronic election with a paper trail.



Alas and alack, much of the rest of the nation is as susceptible to hackers as Troy was to wooden horses.

Nay.

4. FRANZ KAFKA, CALL YOUR OFFICE. The jury has finally come in on this country's character. Franz Kafka has soundly defeated Frank Capra.


Exhibit A: CITIZENSHIP ON HOLD. The swearing in of new citizens around the country has been squelched until such time as Homeland Insecurity Czar Tom Ridge can print new stationery. (None of those people really wanted to vote in November, did they?) Read it and weep.

Ex B. Need more evidence? Try this rare sensible commentary from the Social Darwinists devolving daily at the Las Vegas Review-Journal editorial page: "A blow against the secrecy state — Federal government didn't even want to produce its photo ID law"



5. PROPAGANDA IS NEVER HAVING TO SAY YOU'RE SORRY. In tomorrow's Sparks Tribune (reprinted in next Friday's Comstock Chronicle), I expand on the hoary history of the right-wing rich guys' propaganda machine with the latest in my series on corporate PR for fun and profit. This week: I tol'jaso 10 years ago. Go to Barbwire.info to catch up on the required reading.

6. BET ON CHENEY NOT COMING BACK TO RENO. Imagine how our sensitive vice-president felt when the announcement of Michael Moore's October visit to UN,R got more ink than the distinguished ambassador from Halliburton. Moore scored the above-the-fold headline on the front page of last Thursday's Reno Gazette-Journal while news of the vice-president's speech was reduced to little more than a sidebar. If the shadow president had any lingering doubts about them dirty pinko commies at Gannett Newspapers, they were removed if he saw the rather unfortunate juxtaposition on Friday's front page: "Cheney rallies supporters. Authorities find body near Fallon."

Don't call us, we'll call you.

7. THE APPROPRIATE QUOTE FOR THIS INCREASINGLY SICKO ELECTION SEASON:

"I'll bend every effort to win, and I come from a long line of effort benders." -- legendary comic actor W.C. Fields.

Be well. Raise hell.

Andrew Barbano

COMING SOON TO NEVADALABOR.COM: Photos and highlights of United Farm Workers Union co-founder Dolores Huerta's speech to Reno workers.



---
Barbwire by Barbano
Red meat and politicians hung out to bleed
The most inspiring candidates of 2004

YOU SAW IT FIRST AT BALLOTBOXING.US
8-23-2004: Tomorrow's news today
Democrat & non-GOP Primary Sample Ballots Missing in Northern Nevada
Voter registrar intentionally mailed Republicans first
Other swimmers in the political alphabet soup bowl mad as wet hens
8-24-2004: Reno Gazette-Journal prints your story
8-31-2004 Update: Some ballots still missing. Whassup?

SWINGTOWN — Campaign ads flood Reno, study says
City most popular market in country: TV spots targeting battleground state.
Reno Gazette-Journal 8-28-2004