New Mexico Gov. Bill Richardson
rallies Kerry-Edwards supporters in Reno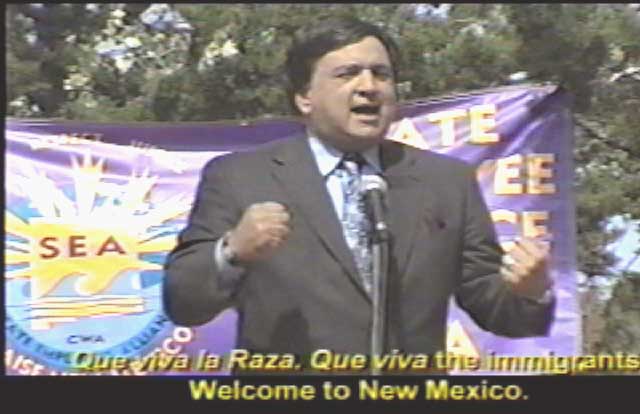 IN RENO SEPTEMBER 23 — New Mexico Gov. Bill Richardson, D, will speak in Reno at 11:30 a.m. on Thursday, September 23, 2004. He will rally Nevadans to the cause of Sens. John Kerry, D-Mass., and John Edwards, D-N. Carolina, at the Reno Culinary Union hall at 100 W. Grove Street, Suite 400, next to the Peppermill Hotel-Casino. (See map, below.) Richardson is a former New Mexico congressman and U.N. ambassador. He is shown above addressing organized labor's National Freedom Ride when the bus convoy stopped in New Mexico last year. The caravan started in California and ended in New York. Several Nevadans made the journey, a demonstration in support of the civil rights of immigrants.


How to find it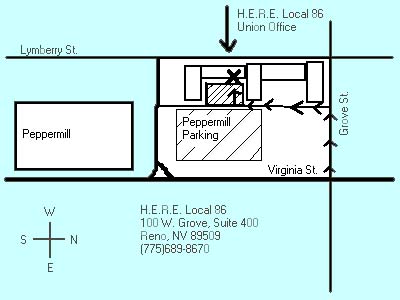 MAP TO THE CULINARY UNION HEADQUARTERS IN RENO

IF YOU GET LOST, CALL (775) 689-8670.

Adventures in journalism — On the day of Gov. Richardson's visit, the Reno Kazoo-Journal duly prints the story. But neglects to publish the address or a contact phone number. Whadya expect? For a good laugh, click hereabouts.
---
NEW: ASK ANDY
So many people have been asking for advice on how to vote that I might as well publish it. Such comments will be totally non-objective and thus objectionable to some, useful to others and occasionally amusing to all. Be well. Raise hell.


---
HOT TOPICS THIS WEEK
Updated Thursday, 9-23-2004

JOIN BALLOT BOXER BARBANO AND THE USUAL SUSPECTS ON SAM SHAD'S STATEWIDE NEVADA NEWSMAKERS, THE PUGNACIOUS POLITICAL PUNDITRY PROGRAM, ALSO ON THURSDAY, 9-23-2004 AND SUBSEQUENT RERUNS. Guests will fight it out over the doctors vs. lawyers ballot initiatives and the 2003 tax plan. Assemblyman Robert T. Beers, R-Gomorrah South, will be among the chosen. Read more about it.


WILLIE HORTON IS BACK AND NEVADA DID IT. Bush and Cheney are running instant replay of the Dukakis rout of 1988 complete with the return of Willie Horton. None other than my old friend and Bush confidante Sig Rogich of Las Vegas suggested such racist redux and it's now in distribution.



Be well. Raise hell.

Andrew Barbano

COMING SOON TO NEVADALABOR.COM: Photos and highlights of United Farm Workers Union co-founder Dolores Huerta's speech to Reno workers.



---
Barbwire by Barbano
Red meat and politicians hung out to bleed
From a recent edition:

A certain local talk radio station was recently handed a huge wad of money, well into five figures, to produce a daily program bashing Sen. John Kerry. They even allow a token liberal to sit in a couple of times a week so that they can plead that they've given the dirty pinko commie faction a chance to rebut.

Said liberal is usually outgunned three or four mouths to one, but it doesn't matter.

What's important is repetition of the lie.

ALSO: THE MAHATMA COMES TO THE HIGH DESERT OUTBACK OF THE AMERICAN DREAM. MICHAEL MOORE WILL SPEAK AT UN,R OCT. 13. (MORE)

GREATEST HITS DEPT.
YOU SAW IT FIRST AT BALLOTBOXING.US
8-23-2004: Tomorrow's news today
Democrat & non-GOP Primary Sample Ballots Missing in Northern Nevada
Voter registrar intentionally mailed Republicans first
Other swimmers in the political alphabet soup bowl mad as wet hens
8-24-2004: Reno Gazette-Journal prints your story
8-31-2004 Update: Some ballots still missing. Whassup?

SWINGTOWN — Campaign ads flood Reno, study says
City most popular market in country: TV spots targeting battleground state.
Reno Gazette-Journal 8-28-2004
9-18-2004 BallotBoxing Bulletin