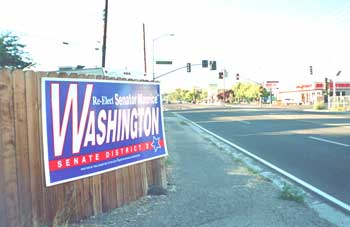 ABOVE — Washington sign on the west side of Pyramid Way. Intersection with Greenbrae Drive can be seen in the background.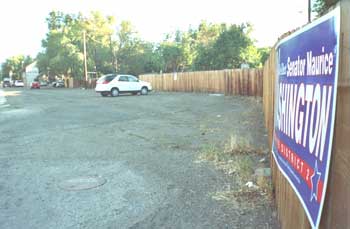 ABOVE — The same sign, only facing south on Pyramid Way. The Center of Hope Christian Fellowship may be seen in the background.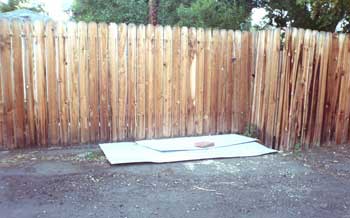 ABOVE — Two signs which had been removed from the fence as they were found.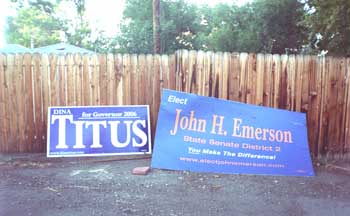 ABOVE —The two signs tilted up from the ground to show the candidates thereon.


SPARKS (10-3-2006) — Lifelong Sparks resident Richard "Skip" Daly filed a complaint on Monday with the Internal Revenue Service against longtime State Sen. Maurice Washington, R-Sparks.

The complaint accuses Washington of violating federal law prohibiting non-profit charitable organizations like Rev. Washington's Center of Hope Christian Fellowship from engaging in partisan political activity, which has been illegal for more than half a century.

"Under the IRS code for tax-exempt, non-profit charitable organizations, there is an unequivocal and strict prohibition against political activity advocating or taking a position for or against any candidate," Daly stated. [1]

Washington is a candidate for a fourth term in the Nevada State Senate. His opponent is Rev. John Emerson.

The complaint states that Center of Hope Christian Fellowship, where Washington is the pastor, has used the assets of the church to advocate Washington's re-election to the post he first won in 1994. He thus risks the tax exemption of the church and the tax deductibility of contributions to it.

"The complaint notes in part that Sen. Washington ordered church staff to take down the signs of his opponent, John Emerson, as well as those of another candidate, which were posted on the fence he claims to be church property. We understood the fence to be on adjacent homeowners property," Daly said.

"Rev. Washington insisted that the fence belongs to the church and that we are not allowed to post signs," Daly added.

"I advised him that we would be looking into the issue and that we believed that the church allowing only Washington's sign to be posted constituted a violation of the IRS tax code.

"He seemed not to care."

Photos of Washington's campaign signage on heavily-trafficked Pyramid Way in front of the Center of Hope Christian Fellowship have been posted at BallotBoxing.US

"This is just the latest in Rev. Washington's continuing pattern of using his church and his positions as state senator and pastor for his own personal gain and profit," Daly added.

"Rev. Washington has been bedeviled with ethical and financial troubles for almost the entirety of his public service," Daly stated.

"His actions place his church's tax exemption in jeopardy and put all religious organizations in a bad light at a time of increased federal scrutiny," he added.

"It is well known that tax-exempt charitable organizations cannot engage in partisan politics in any way. This latest example of questionable ethical conduct by Sen. Washington erodes public confidence and respect for public office," Daly noted.

"Sen. Washington apparently believes he is above the law because he has had such problems in the past. He continues to act in blatant disregard for the best interests of his congregation and the people of his district," Daly said.

In a 1998 newspaper interview, Washington admitted to running his campaign from his church offices. The Reno News & Review reported that "Washington, a conservative Republican who first won his District 2 seat in 1994, sees nothing wrong with running a political campaign out of his church office.

"'It's no different than if I were a gas station attendant running for office and I had a campaign office in the gas station,'" Washington told the newspaper. [2]

Daly strongly disagrees.

"There is a huge difference. The gas station attendant's business pays taxes," Daly said, "and the purchases of the customers are not tax deductible. The income of the church is not taxed and any donations are deductible by the donor. Using the assets of the church in any way amounts to a taxpayer subsidy of Washington's political campaign," he added.

"The law is very clear that the assets of a tax-exempt religious or charitable organization may not be involved in partisan political activities," Daly noted.

In 2001, the Nevada attorney general's office filed a complaint against Washington's church for failure to pay for injured workers' insurance. Washington first claimed a clergy exemption but was eventually prosecuted in Sparks Justice Court where he entered a no-contest plea to the charge. The church was hit with fines and penalties. [3]

Washington was personally named in a similar complaint filed against his Nevada Leadership Academy charter school in 2002. The publicly funded enterprise was run by his church. A trial originally set for July of that year was postponed until after Washington's re-election bid in November. Rev. Washington again pleaded no contest and was fined $750. [4]

Former Las Vegas Review-Journal political commentator Steve Sebelius, now editor of Las Vegas CityLife (the LVRJ's alternative weekly), wrote on July 13, 2006, that "Washington was also accused of misusing public funds when he withdrew $150,000 from school accounts and wrote a cashier's check to his church, using that to convince Wells Fargo Bank officials that the church had enough money to buy the land on which it sits.

"'Because of necessity, the school came forward to help. The school provided a short-term loan,' Washington said in the Aug. 20, 2002, Gazette-Journal story," Sebelius noted. [5]

Rev. Ron Rentner criticized Washington's real estate dealings in a newspaper column shortly after the 2002 election.

"The pastor (Washington) who at that time directed the charter school, instructed the folks who wrote the school's checks to marshal $150,000 of the school's money and to transfer it to the church. It was in the form of a…cashier's check. This check was shown to the church's bank as evidence of equity in the building the church wanted to buy. When the loan was approved, the cashier's check went back to the school," Rentner commented.

"Major corporate leaders are being arrested these days for variations of this 'round trip' transaction," he added. [6]

After serving a year in Guatemala, Rentner now works in northern California.
____

[1] Election Year Activities and the Prohibition on Political Campaign Intervention for Section 501(c)(3) Organizations

FS-2006-17, February 2006

"Under the Internal Revenue Code, all section 501(c)(3) organizations are absolutely prohibited from directly or indirectly participating in, or intervening in, any political campaign on behalf of (or in opposition to) any candidate for elective public office. The prohibition applies to all campaigns including campaigns at the federal, state and local level. Violation of this prohibition may result in denial or revocation of tax-exempt status and the imposition of certain excise taxes."
http://www.irs.gov/newsroom/article/0,,id=154712,00.html

[2] Drewes, Ellen; "Senate Race Heats Up"; Reno News & Review, Oct. 15, 1998, page 6.

[3] Riley, Brendan; "Sparks' Senator Washington has industrial insurance woes"; Associated Press/Daily Sparks Tribune, Aug. 1, 2001, page 8A.

[4] Altrocchi, Geoffrey; "Senator pleads no contest to insurance charge"; Daily Sparks Tribune, Nov. 14, 2002; page 1A.

[5] Sebelius, Steve; "Fool's gold standard — Liberty Watch: The Magazine gives extensive oral favors to unethical lawmaker"; Las Vegas CityLife; July 13, 2006.

[6] Rentner, Ron; "Watching examples of integrity in action"; Daily Sparks Tribune; Friday, Nov. 8, 2002, page 6A.